I absolutely love this carrier and enjoy using it, my only problem is the size. It is super light, but it doesn't fold up very small. It's not one that I can keep in my car because it takes up a lot of space in the back and I still don't know where I'm going to stash it inside. Right now it is in Isabella's closet and it would be so much easier if I could just leave it in my car! I'm sure I'll walk out of the house many times and forget to bring it with me. You'll also have to use another carrier for babies under 6 months, which is fine because most of those carriers only go up to about 6 months and then you'll need a new one anyway.

Kokopax also carries a tote and sun hat. The Blakely Ring Tote is available in the same colors as the Carriers for a perfect match! It is 18" x 4 ½" x 18" and made of 100% cotton canvas. There is an attachable mini-tote and separate zipper pocket for extra storage. The key fob and bottle/beverage compartment makes this tote amazingly functional.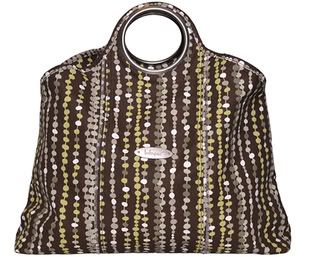 Buy It!
You can purchase the Kokopax Classic Carrier for $179.99 and the Blakely Ring Tote for $79.99

Win It!
Kokopax is giving one of her readers a tote. Enter Here.